Le 1903 et la competition
National Match Armory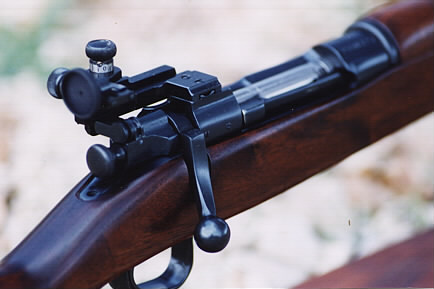 In addition to our award-winning M1 Garands, National Match Armory also specializes in the building of National Match 1903 and 1903A3 Springfield rifles. We also build unique versions of the Springfield including copies of the 1903A4 sniper and the 1903A1 Marine Corps sniper. Old-style target rifles are also a specialty.
We use all the skill and specialized knowledge which made the original 1903 NM rifles great...and a great deal more!
National Match Armory has continued the quest for superior accuracy from these fine rifles well beyond that which was being achieved in the heyday of their competition superiority. We have developed techniques which unlock accuracy previously thought impossible in a fully-stocked iron-sight military rifle.
Our most popular version of the Springfield rifle is the NMA Springfield National Match Rifle, constructed specifically for CMP Springfield Match competition.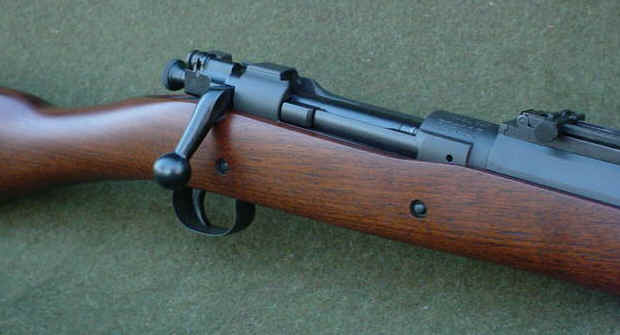 Our Springfield NM rifles are legal for CMP Springfield Match competition. Their superior smoothness, accuracy and shooter-friendliness are the result of meticulous hand-fitting, old-world craftsmanship and careful assembly...as well as our proprietary accurizing techniques.
(The sample rifle shown here is a Rock Island Arsenal 1903 fitted with a WWII-style "S" stock and has the standard blued bolt instead of the optional semi-polished bolt. The metal is finished in National Match Armory's unique combination of parkerize and military finish blue, much as they were originally done. Notice the attention given to wood-to-metal fit and the overall quality of finish. Click on each image to enlarge it.)
We build our Springfield NM rifles in a variety of trim levels to suit the individual taste of the shooter. They can be of the early "straight stock" type, or the later "C-stock" type, and based on either the 1903 or the 1903A3-style rifle.
Nobody else builds Springfield rifles anywhere close to the vastly superior way National Match Armory does. Nobody. Ours are more expensive than the others for a very good reason: Ours are the best.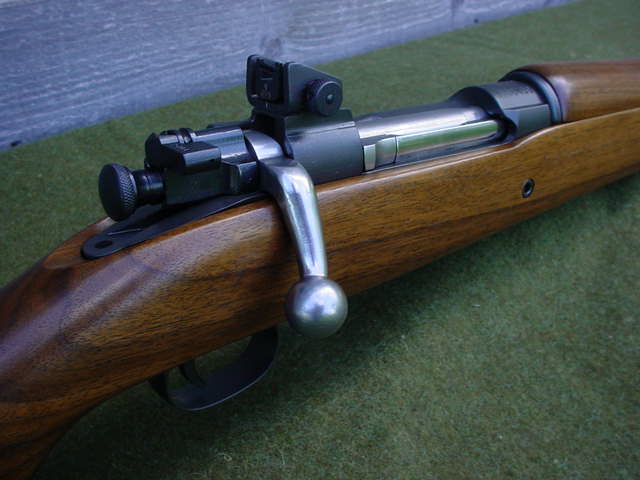 Each and every National Match Armory-built Springfield NM rifle is capable of winning local, regional and even the prestigious Camp Perry National Springfield Rifle Match.
We can build a NMA National Match rifle on your 1903 or 1903A3, or we can supply the completed rifle outright or on an exchange basis.
(This example of a NMA National Match rifle happens to be my personal rifle - in its fourth or fifth incarnation - a blend of '03 and A3 parts to combine the best features of both types. It is fitted with a Krieger barrel, finished in a combination of blued and parkerized surfaces, has the optional in-the-white semi-polished bolt and is fully legal for CMP Springfield Match competition. The furniture is our latest "Signature Series" black walnut with a more custom rifle look than one might expect on a military rifle. We like this overall appearance because it gives us a chance to accent the natural strong grain beauty of the wood with a unique blend of old world stains and finishes, most of which we make our self. The trigger is smooth, the action slick and the accuracy very satisfying...)
Details on the NMA National Match 1903 rifle are listed below, along with general price guidelines. Please keep in mind that many rifles require repair work beyond the scope of the package, and this is not included in the price.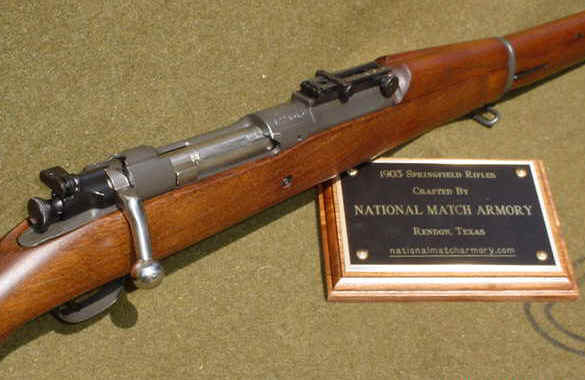 Keep in mind also that National Match Armory does not build these rifles on a production line. Each NMA Springfield NM rifle is hand-crafted on an individual basis by Eric Pierce himself, not by helpers or apprentices.
Stocks and hand guards are hand-fitted and finished American black walnut. This operation can make or break a match rifle. There are no shortcuts, just tedious hours of fitting, trying and fitting some more. National Match Armory is unique in the universe in this regard.
Metal finish is a combination of gray-black parkerize and blue, much like the originals, but much, much more attractive (please excuse the poor photography which does these rifles no favors whatsoever!). Each and every part is meticulously hand worked to maximize its appearance as well as its fit. Semi-polished bolts are a popular option.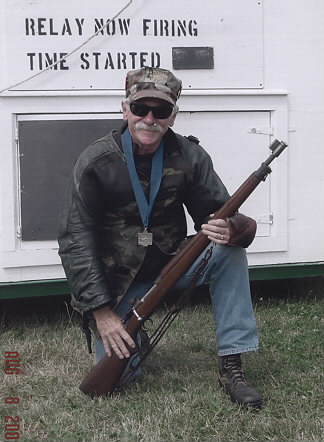 Triggers are smoothed up and lightened while the bolts and other moving parts are fitted, honed, stoned and lapped to assure smooth, slick operation - even under grueling competition conditions.
While some Springfields may not need one, we offer USGI replacement barrels and optional competition-legal Krieger barrels on our Springfield NM rifles.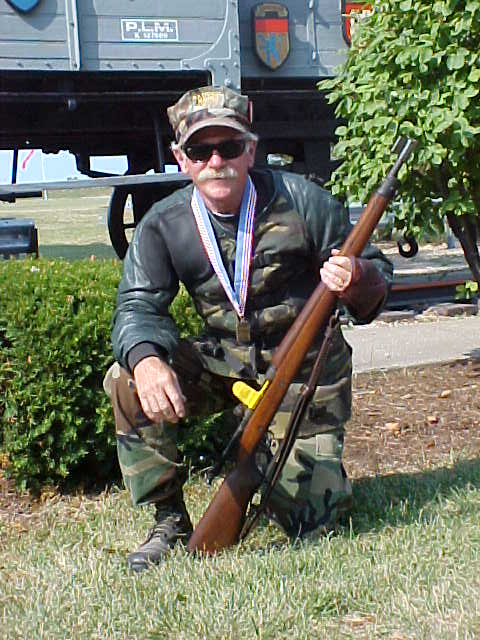 Upon delivery of their newly-crafted National Match Armory 1903 NM, the most common comment is, "Wow! I can't believe this is my old rifle!"
Considering how bad most of them look and shoot when they come into the shop, sometimes we're amazed at how well they turn out, too!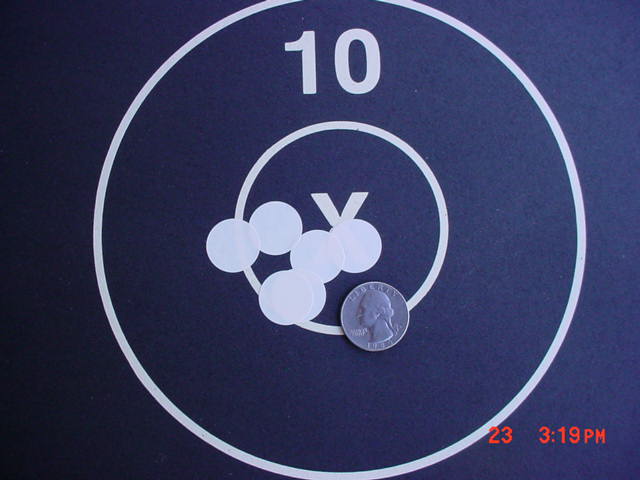 Shown here is a fairly typical 1.7-inch 6-round 200 yard confirmation group shot with one of our CMP-legal NMA Springfield National Match rifles - a 1903A3 in this case - with a Krieger barrel. It was shot from the prone position with sling and jacket just like in a match...no rifle rest. (Note that ammo used was Korean surplus .30-06, 8 - 10 mph crosswind and that the target is a 200 yard SR, the same as is used in CMP Springfield Match competition. No sighter shots, rifle was already zeroed.)
And, we don't just build 'em, we shoot 'em competitively, too - locally, regionally and even nationally at Camp Perry. They've got to be good! We know what works...and what doesn't...from real-world match experience under real-world match conditions.
Of course, having the best rifle is no guarantee you'll win, but at least you'll have complete confidence that it's not the rifle holding you back...
Our most popular Springfield National Match Package: $1695*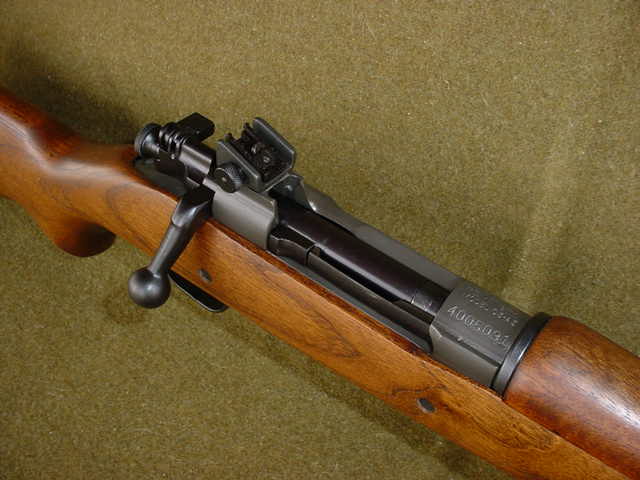 (*Price is approximate only, and does not include the rifle itself, replacing the barrel or any additional parts or repairs which may be required.)
Call for additional information or to make an appointment for your rifle.
* * * * *
1903/1903A1/1903A3/1903A4 Services*:
1.Basic Service (clean, inspect, lubricate) ___________________________ $65
2. Install new barrel, including labor:
* Original USGI .30-06 (uses your sight bases): ____________________ $475
* Krieger Premium Match Barrel, w/ or w/o original sights (you supply), (30-06): ____________________________________________________________________P.O.R.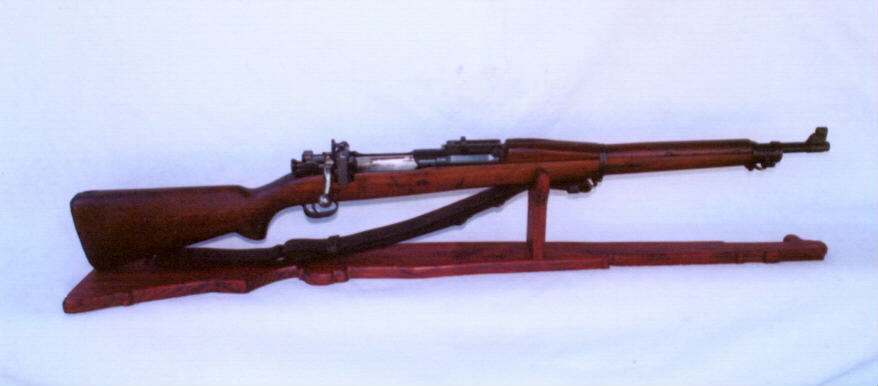 3.Accurizing, with or without steel bedding as per CMP Match rules:$425
4.NM Trigger Smooth-Up:______$65
5.New Black Walnut Stock and Hand- guards, Straight or Pistol Grip:
Military-type Finish: ____________________________________________ $445
Presentation Finish: ____________________________________________ $495
6.
Parkerize/Blue Combo Finish (looks almost identical to
original, only 'way better!):_______________________________________$395-up
7.Optional Finishes (All Blue, Polished Bolt, Combinations, etc.): ______ P.O.R.
8.Stock Refinishing:______________________________________________ N/A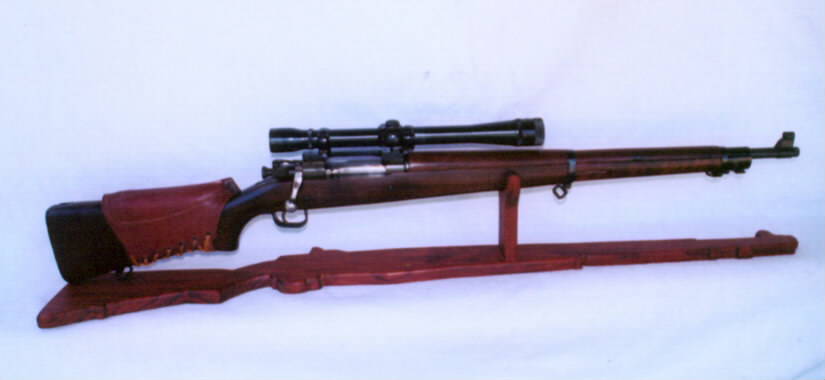 9.Sights/Scopes/Accessories:
Williams, Lyman, Redfield Sights, installed:_______________ P.O.R.
Unertl 8x, 10x and 12x target scopes, installed: _______________ P.O.R.
Turner Saddlery NM "Chestnut" Brown Oiled 52" Service Rifle Slings, a National Match Armory Exclusive (The Best There Is - Bar None!):_____________________________________________________________ $85
Timmney Sporter Trigger, installed:________________________________$95
* NOTE: Other services available. Please inquire. Some services available only in conjunction with a complete rifle building program.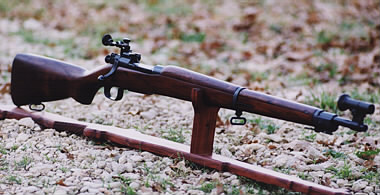 * * * * *
National Match Armory
"Why settle for less?"
Thanks for visiting www.nationalmatcharmory.com. Come back soon.